Fire resistant testing
Spectrum Drylining works closely with global testing company Element. We are able to test partition walls which have no fire safety data which means you can guarantee the fire resistance meets the latest legal requirements.
This facility has been invaluable on past projects, saving our clients thousands on projects.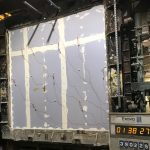 Flammability testing is a critical part of ensuring safe and trustworthy products. Products used in the construction and building process must satisfy safety requirements and regulations before being implemented including the rate of burning, heat and smoke release criteria. If any products have not been fully tested our access to experts will provide you with a thorough and accurate flammability test program that limits risk for your business and your customers.